The Hazardous Materials of the San Bernardino County Fire Protection District is designated by the State Secretary for Environmental Protection as the Certified Unified Program Agency or "CUPA" for the County of San Bernardino in order to focus the management of specific environmental programs at the local government level.
About Certified Unified Program Agency (CUPA)
As a CUPA, San Bernardino County Fire Department manages six hazardous material and hazardous waste programs. The CUPA program is designed to consolidate, coordinate, and uniformly and consistently administer permits, inspection activities, and enforcement activities throughout San Bernardino County. This approach strives to reduce overlapping and sometimes conflicting requirements of different governmental agencies independently managing these programs. The CUPA is charged with the responsibility of conducting compliance inspections for over 7000 regulated facilities in San Bernardino County.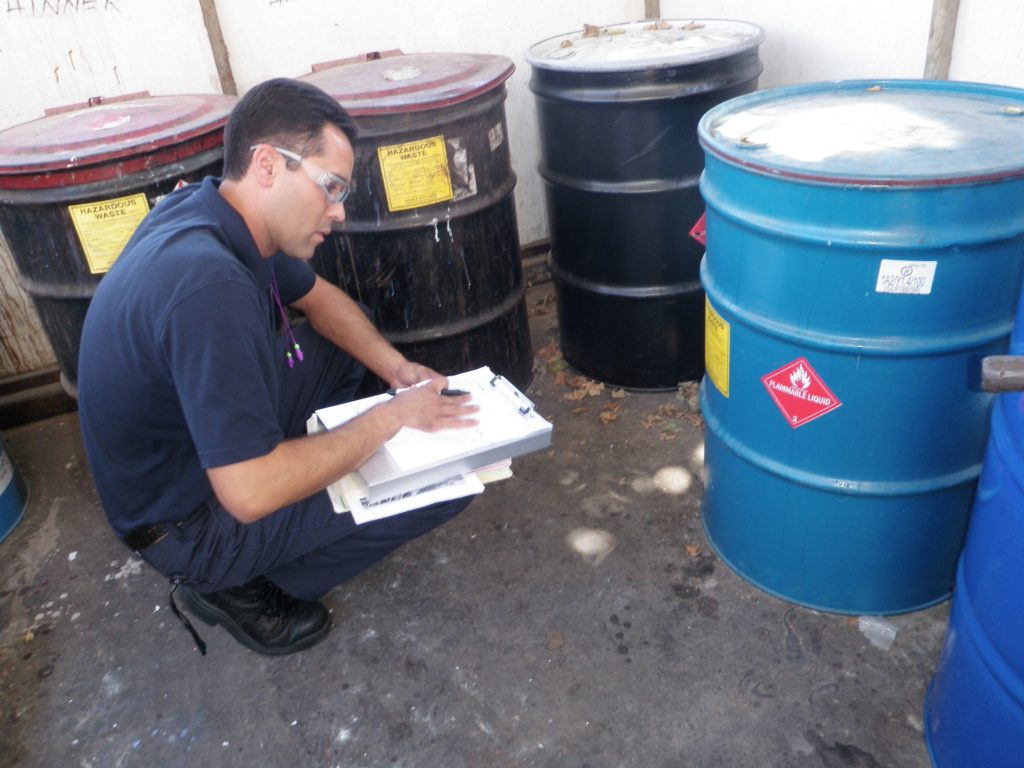 Inspection Readiness
What to Expect During A Facility Inspection
California Health and Safety Code Sections 25185, 25508 and 25280 require CUPAs to inspect facilities that handle hazardous materials and/or generate hazardous wastes and/or operate an underground storage tank. The following should assist you in preparing for your inspection:
Unannounced Inspection
Because of the regulatory nature of our inspections and the uncertain timeframes involved with each facility, you should expect unannounced inspections.
Facility Walkthrough
A general walkthrough of the facility will be conducted to look at processes and storage areas. The Specialist will ask questions regarding facility operations during the walkthrough.
Keep areas clean where hazardous materials and wastes are used and stored. Good housekeeping procedures can also prevent workplace injuries, such as slips, trips and falls. Keep all containers labeled and the labels facing out for easy identification and make sure hazardous waste labels are complete.
Handling and accumulating hazardous material and waste is serious business. Although you may use these substances everyday, don't become complacent with the proper and safe handling of these hazardous substances. They are called hazardous for a reason. Potential fire, explosions, inhalation hazards and long-term health problems can result from the mishandling of these substances.
Records
All hazardous material and hazardous waste records (receipts, invoices, hazardous waste manifests, etc.) must be available for review. Photocopies of records are acceptable as long as they are legible and the originals can be produced if needed.
All hazardous waste records must be kept for a minimum of three years. Other records that must be available include: employee training records, storage area checklists, underground storage tank records, SPCC plans (for aboveground storage tanks), SB 14, recycling records, Safety Data Sheets (SDSs) and process safety documentation.
Exit Interview
After the inspection, the Specialist will go over the final report with the operator, focusing on areas that need corrections. A formal report and certificate of compliance will be submitted to you within sixty days of the inspection.
Pay close attention to the amount of time given to correct any violations and to submit paperwork that may be required. Failure to correct violations noted may result in legal action. If you can't meet the timeline, contact your Specialist well in advance of the compliance date.
Inspections need not to be time consuming or overly intrusive. With your help, our inspectors can complete their inspections and help you and your facility with meeting hazardous material and waste regulations, as well as protecting your employees and making the County a safer place.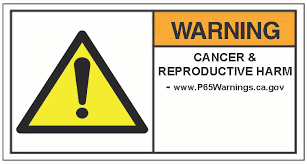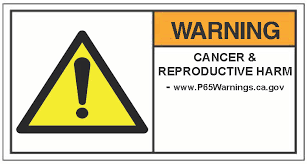 Background
In 1986, California voters approved a ballot initiative to address growing concerns about exposure to toxic chemicals. That initiative became the Safe Drinking Water and Toxic Enforcement Act of 1986, included in Chapter 6.5 of the Hazardous Waste Control Law in California Health and Safety Code – better known as "Prop 65".
Authority
California Health and Safety Code Section 25180.7(b) states: "Any designated government employee who obtains information in the course of his or her official duties revealing the illegal discharge or threatened illegal discharge of a hazardous waste within the geographical area of his or her jurisdiction and who knows that the discharge or threatened discharge is likely to cause substantial injury to the public health or safety must, within 72 hours, disclose that information to the local Board of Supervisors and to the local health officer." The Hazardous Materials Division is tasked by the Board to receive and evaluate such reports, and to notify the public of any discharge that poses a significant threat to public health and safety or the environment without delay.
Prop 65 Reporting
Reporting under Prop 65 is required in addition to all other hazardous material release notifications required by law. In accordance with Section 25507 of the Health and Safety Code, all hazardous material handlers are required to notify the local administering agency (CUPA), as well as the California Emergency Management Agency (Cal EMA), of any release or threatened release of a hazardous material. These releases can be reported by calling the Spill Notification Hotline. All hazardous materials emergencies should be reported to your local fire or police department immediately by calling 911.
Public Notices
When a release of hazardous substances is determined to be of public health significance, or when non-emergency corrective action is initiated under the department's direction, public notification is coordinated through the Hazardous Materials Special Programs/Public Records unit. Public Notices may be viewed on this web site, at a San Bernardino County Library, or at the Office of the Fire Marshal location in San Bernardino.
Office of Environmental Health Hazard Assessment (OEHHA)
Portions of Proposition 65 contained in Section 25249.6 of the Health and Safety Code are administered by the state Office of Environmental Health Hazard Assessment (OEHHA). These portions pertain to the posting of "clear and reasonable warning" of exposure to chemicals on the Governor's List. Questions regarding the requirements to label and/or post warnings pursuant to Proposition 65 may be addressed by viewing the OEHHA Website.
Contact Us
Hazardous Materials
Kristen Ward, Deputy Fire Marshal

Office Hours: Monday through Friday, 8am – 5pm
Address:
620 South "E" Street
San Bernardino, CA 92415-0153
24-Hour Spill Notification Hotline:
24-Hour Spill Notification Hotline (Toll-Free):