About the UST Program
Hazardous Materials oversees the Underground Storage Tank (UST) Program throughout San Bernardino County. The purpose of this program is to ensure that hazardous substances are not released into the groundwater and/or the environment from UST systems.
Hazardous Materials Specialists annually inspect underground storage tank system components and the associated monitoring equipment, as well as inventory records, to ensure that the UST systems comply with applicable laws and regulations.
The Hazardous Materials Section oversees the construction (installation, modification, repair) and the closure of UST systems. Prior to commencing site work, project activities require a valid permit and approval of plans. If the construction begins prior to submitting plans or prior to receiving a Plan Check Permit, the facility may be subject to additional fees and/or enforcement action.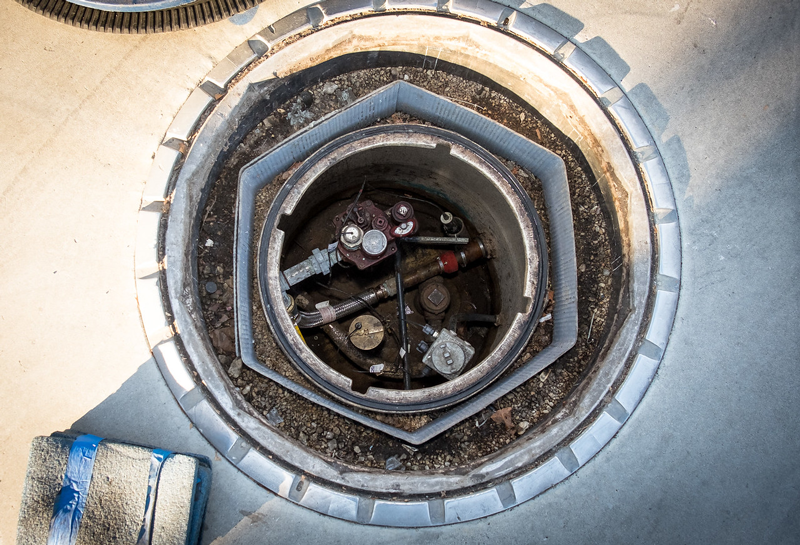 UST Owner/Operator Responsibilities
checked

Maintain appropriate permits and pay annual fees.

checked

Comply with applicable laws and regulations set forth in Chapter 6.7 of the California Health & Safety Code and the associated regulations in Title 23 of the California Code of Regulations. Submit required UST-related information and forms via the California Environmental Reporting System (CERS).

checked

Maintain and monitor the UST system.

checked

Report and remediate all unauthorized releases.
UST Monitoring & Inspections
Annual UST Inspection
Purpose of this Inspection
To verify that the UST system is being monitored, tested, and operated in accordance with state laws & regulations.
To verify the functionality of leak detection equipment.
To verify that the UST system is in compliance with design & construction standards.
When is it Completed?
The annual UST inspection is typically conducted at the same time as the annual monitoring system certification. If the inspection is not completed at the time of the monitoring certification, then another date will be scheduled to conduct the annual inspection. The owner/operator must have someone available to open up all sump lids and dispenser panels.
Inspection Expectations
The inspector will need access to the following during the inspection:
All sumps & under dispenser containments (UDCs) must be viewable.
Alarm history & system set up from the monitoring panel (if the alarm panel does not print history, then a daily alarm log must be maintained).
Monthly Designated UST Operator (DO) inspection reports.
UST Training Records.
Other documents pertaining to the monitoring & maintenance of the UST as specified in 23 CCR 2712(b).
Inspection Report
An inspection report will be e-mailed to the Environmental Contact listed in the California Environmental Reporting System (CERS).
Photographs
Photographs may be taken during the inspection.
Return to Compliance (RTC)
If violations are cited, the Certificate of Compliance and any documentation that may have been requested as part of the corrective action must be sent to ustcompliance@sbcfire.org within the time frame specified in the Certificate of Compliance.
California Environmental Reporting System (CERS)
The UST Element in CERS must be submitted at least once a year.  Submitting the UST Element will meet the requirements of California Code of Regulations (CCR) § 2632.
Certifications
Licensing and certification is verified at every inspection, whether it is a routine inspection or a plan check inspection. Test results will NOT be accepted without documentation of appropriate contractor's license(s), ICC-certification(s), tank tester license(s), and manufacturer.
Testing Notifications & Inspection Scheduling
Notifications for testing and inspection scheduling requests must be submitted to ustclerk@sbcfire.org.
UST Test Results
Test results and reports must be submitted electronically within 30 days of testing.  This includes, but is not limited, to results for the following:
Monitoring System Certification Form
Secondary Containment Testing Report Form
Spill Containment Testing Report Form
Overfill Protection Equipment Inspection Form
Enhanced Leak Detection (ELD) Report
Sampling Results
Closure Reports
Plan Check Types
The following are examples of the most common types of questions
The following do not require a Plan Check Permit from this section:
Replacing a turbine motor
Replacing an electrical relay
Replacing a manhole cover if sump walls or risers within the sumps don't need to be modified (shortened or replaced)
Replacing a vapor spill container
Replacing a vent riser
Replacing PV caps
Replacing flexible test boots
Tightening clamps within the secondary containment
Replacing equipment above the shear valve, such as fuel filters
Installation of a unistrut support for a sensor sleeve if no fiberglassing to sump is involved
Upgrade of monitoring system that does NOT cause the system to lose power, sensor programming, or ISD mapping (e.g. does not require cold start)
Replacing flexible connector within tank sumps
Replacing or removing jumper hoses in a sump or UDC unless the dispenser needs to be removed for access
Fuel conversion from diesel to B20 (20% Biodiesel) – CERS does need to be updated.
The following does not require a Plan Check Permit, but a Notification must be sent within 10 days of replacement to ustclerk@sbcfire.org. Test Results for the following must be sent to this Section within 30 days of replacement and certification to usttestresults@sbcfire.org.
Sensors
Replacing like-for-like sensors (including smart sensors & vacuum sensors)

Must be manufacturer and model specific unless model numbers only vary by cable length or model year (e.g. VR 460 to VR 420)
Functional Elements of Turbine
Replacing mechanical line leak detectors (LLDs)

Does not need to be manufacture or model as long as it is mechanical LLD to mechanical LLD

Replacing check valves
Replacing siphon jets
Replacing functional elements on the turbine
Spill Containment
Replacing a spill container with a container of the same size
The Minor Modification Permit is applicable for UST system modifications requiring 1 plan check review and 1 final inspection. Typically this work does not require excavation.
MODIFICATIONS IN THE UNDER-DISPENSER CONTAINMENT (UDC)
Dispenser removal or replacement
Upgrading from floats & chains to UDC stand-alone sensors
Upgrading from a stand-alone sensor to a sensor monitored by the UST system Controller (e.g. BEI 406 to VR 208)
Replacement of Flexible Connectors within the UDC.
Replacing flexible connectors within the UDC
Replacing product or vapor shear valves in the UDC
Installing liquid detection sensors in place of UDC float & chain assemblies
Removing dividers in the UDC
MONITORING & LEAK DETECTION EQUIPMENT
Replacing a mechanical line leak detector (MLLD) with a electronic pressurized line leak detector (PLLD) or vice versa
Replacing sensors from of one manufacture/model to a different manufacture/model
SECONDARY CONTAINMENT REPAIR (NO EXCAVATION)
Replacing secondary containment penetration fittings
Installation of rigid fiberglass test boots (e.g. Bravo Split FRP Retrofit Entry Fitting)
Fiberglassing repairs
Application of Adhesive to a secondary containment
SPILL CONTAINMENT
Replacing a spill container to a different volume
Raising or lowering drop tubes to change the spill containment capacity
Replacing direct bury spill container with a double-walled spill container
MONITORING PANEL & ELECTRICAL
Cold Starts – any upgrade or reprogramming that triggers recertification of the monitoring system
Upgrading or installation of new low voltage electrical wiring that affects more than 50% of the leak detection equipment
Replacing the monitoring system/controller
OVERFILL PREVENTION EQUIPMENT (OPE)
Changing or replacing any OPE
FUEL CONVERSION
Coverting from one type of hazardous substance to another as long as excavation is not required.
Major Modification Permits and Fees are applicable for UST system modifications that require 1 plan check review and up to 4 inspections. Typically, modifications that require excavation that may affect the UST system is a Major Modification
TANK TOP UPGRADE/RE-PIPE
Installation, upgrade or repair of primary piping
SECONDARY CONTAINMENT REPAIR (WITH EXCAVATION)
Installation, upgrade or repair to secondary piping or penetrations that involve excavation
INVESTIGATIONAL/EXPLORATORY PERMIT
Investigational/exploratory permits that require excavation to determine cause of secondary containment failures, loss of hydrostatic fluid or vacuum, or alarm conditions
OTHER EXCAVATION
Installation, upgrade, or repair of any of the following that require excavation:
UDCs
Tank Sumps
Vent Transition Boxes
Piping Transition Sumps
OTHER
Any other permit that requires more than 1 inspection
In San Bernardino County, no person shall abandon, close, or remove a UST without a permit from the CUPA. A Plan Check Application must be submitted and an approval letter must be received prior to initiating closure activities. An inspector must be present to witness the removal.
Review the San Bernardino County Fire Protect District UST Closure Requirements for details of the closure application, inspection, and post-inspection documentation.
Plan Check Process
All UST installations, modifications, and closures require a plan check permit.
CUPA Permits
CUPA facility permits must be current in order to apply for a UST Plan Check Permit.
Submittal Packet
In order to apply for a Plan Check Permit, the following must be submitted:
UST Installation / Modification Permit Application
Owner Acknowledgement
Contractor Acknowledgement Form
Certifications of all Contractors & Testers
Plot Plan or Site Map (if applicable)
Test Results (if the plans are to address failures)
Compatibility Statements (for alternative fuels)
Additional Documents might be requested based on the type of project
Contact the UST Front Counter Technician for additional information.
A Resubmittal or addenda to submitted plans may be made for any of the following reasons:
Plan Checker requests additional information on the plans.
Plan Checker determines that the Plan Submittal Packet is deficient.
The Contractor Certifications are expired.
There has been a change in contractor.
There is a change in the plans (regardless of the size of the change)
There is a change in piping layout.
There is a change in tank orientation.
Each resubmittal will be charged a fee.
If the resubmittal is requested by a Plan Checker during the plan review process, a notice will be sent outlining the deficiencies of the plans. Submit the resubmittal plans within two weeks to avoid delays in plan review. If the resubmittal is not submitted within one year of the deficiency communication, then the plans may be rejected and a new set of plans may need to be submitted.
Plan Check Permit
Once plan review is complete, the Contractor and the Environmental Contact listed in the California Environmental Reporting System (CERS) will receive a Plan Approval Letter. This Plan Approval Letter is the Plan Check Permit. After receiving this permit, the construction work may commence.
Plan Expiration
The Plan Approval Letter has an expiration. The Conditions of Approval on the Plan Approval Letter must be met prior to the Permit Expiration. Contact the UST Front Counter Technician if the permit has expired.
UST Contacts
Office:
620 South "E" Street
San Bernardino, CA 92415-0153
UST Front Counter Technician: