Plans are required for all new buildings, changes to existing buildings, and many different fire protection and life safety systems. The Fire Department reviews these plans to help ensure that the Fire Code is being followed, and to prevent unnecessary hazards.
The Planning and Engineering Section provides comprehensive plan check and inspection services. Plans are reviewed for compliance with the applicable fire and life safety regulations, codes and ordinances.. Our plan check turn around time goal is 15 working days after payment has been received.
All plans are now required to be submitted electronically using the County's EZOP Online Permitting Portal. For additional information, please contact us and ask to speak to one of our Front Counter Technicians.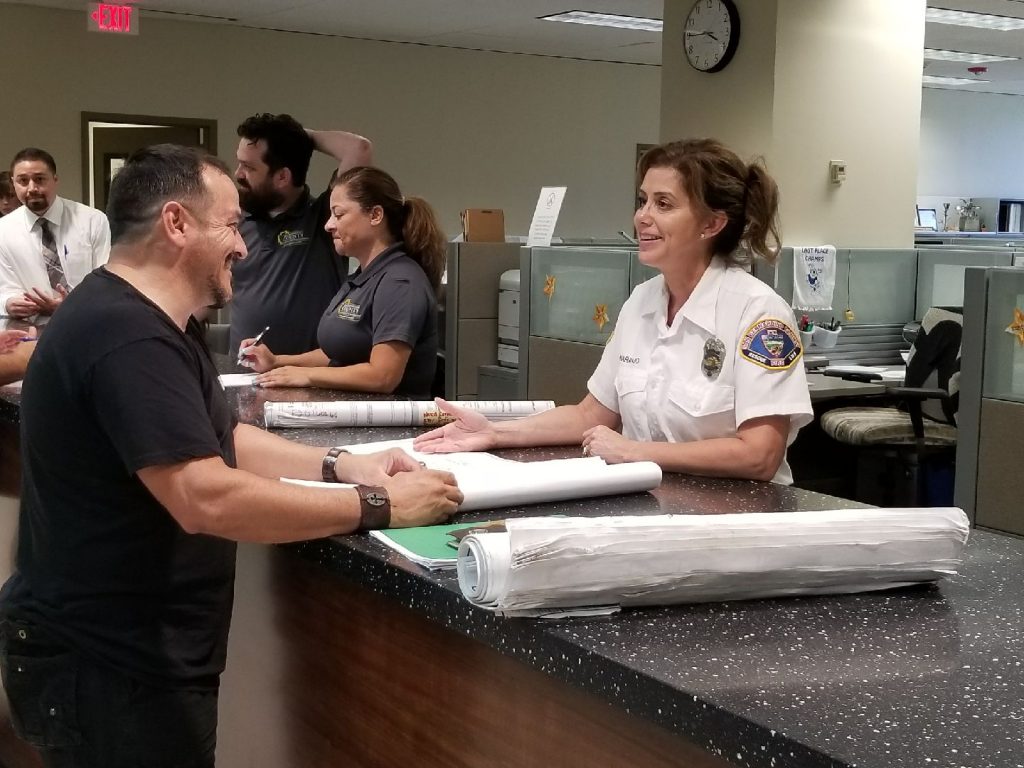 Planning
The entitlement application that determines the requirements for tentative maps, site plans, building construction, and conditionally permitted uses for a future development. Most planning applications are required to be reviewed and fire conditions given.
Commercial/Multi-Family Construction
Detailed plans and associated documents showing the design of a commercial, industrial or multifamily building, or portion thereof. All buildings and most associated structures, most tenant improvements and additions are required to be submitted and approved.
Single Family Residential Fire Letter
A Fire Letter is required for all new single family residential projects, as well as most additions and accessory structures. In order to obtain a Fire Letter, a site plan is required to be submitted and reviewed, after which the applicant is provided standard fire protection conditions for building a single family dwelling.
Single Family and Multi-Family Residential Fire Sprinklers
Fire sprinkler plans are required to be submitted for all single or multi family residential buildings per the California Fire Code and Residential Code. This includes both new systems and any modifications made to an existing system.
Non-Residential Fire Sprinklers
Fire sprinkler plans are required to be submitted for all commercial, industrial, or residential buildings when the California Fire Code mandates the installation of fire sprinkler system, or when any modifications are made to an existing system.
Fire Alarms
All fire alarm systems, of either a sprinkler monitoring type or a full notification type, require plans and materials lists to be submitted, for any new system or modification or an existing system, as required per the California Fire Code. Most new buildings protected with fire sprinklers, and buildings of certain size or uses require a fire alarm system.
Underground Water Plans
A private underground fire protection water supply plan submittal is required for any new construction having onsite private hydrants, sprinkler systems or standpipe systems; or when it is determined that, due to the changes to existing buildings, onsite fire hydrant spacing and or fire flow requirements per the California Fire Code are not met.
Pre-Engineered System/ASTs
Pre-Engineered systems include fixed fire extinguishing systems, refrigeration systems, dust collection systems, gas detection systems, plant extraction systems, photovoltaic systems, above ground storage tanks, etc. and other systems that because of their nature or associated hazards are required by the California Fire Code to be reviewed to ensure that it will function according to a pre-engineered design.
High Pile Storage/In-rack Sprinklers
Plans showing the floor plan layout, details of storage arrangement, and fire protection systems, are required to be submitted for any High Piled Storage of a 500 square feet or greater area of Class 1 through IV commodities and any quantity of High-Hazard commodities.
Non-Residential Pumps
All fire pumps used to supply fire sprinkler systems, fire hydrants, and standpipe systems are required to be reviewed and approved, with the exception of those used for single family domestic water pumps. Plans must be submitted and shall show the layout of the fire protection system as well as pump design specifications and hydraulic calculations.
Important Links
Commercial – New Construction and Fire Protection Systems Information & Checklists