What We Accept
Collection Facilities accept a wide variety of household generated hazardous wastes. These services are FREE for San Bernardino County residents only. Proof of residency may be requested. Call 909-382-5401 or 1-800-OILY-CAT (1-800-645-9228) for disposal options.
Collection Facilities Will Accept Household Generated:
checked

Motor Oil, Oil Filters

checked

Auto & Household Batteries

checked

Paints, Paint Products, Paint Thinner & Wood Preservatives

checked

Cleaners, Gasoline, Antifreeze, Weed Killers

checked

Pesticides & Fertilizers, Pool & Hobby Supplies

checked

Auto & Furniture Polish, Chemical Drain Cleaners

checked

Sharps/Needles in approved container (not accepted at all locations)

checked

Outdated Medications, non-controlled substances, separate liquids & solids

checked

Mercury Thermostats
Collection Facilities Will Not Accept:
crossed

Large Compressed Gas Cylinders

crossed

Remediation Waste
Call 909-382-5401 or 1-800-OILY-CAT (1-800-645-9228)
Before Transporting Hazardous Waste
Before transporting household generated hazardous waste to a collection facility or ABOP facility, be sure that . . .
checked

The amount of waste transported does not exceed 15 gallons or 125 pounds. Container volume must not exceed 5 gallons. Must be sound and sealed.

checked

The waste is in its original container or is properly labeled as to its contents.

checked

Waste is placed securely in the back of the vehicle for safe transport (except sharps)

checked

The contents of the container are the same as stated on the label. If not the same, cover up the label and write the name of its contents.

checked

Place sharps/needles in approved container. It is illegal to transport in plastic milk jug, coffee can, plastic bag, or soda bottle.

checked

Click here to create your own alternative sharps container with FREE printable labels

checked

Call 909-382-5401 or 1-800-OILY-CAT (1-800-645-9228) for information on obtaining an approved container.

checked

Place items in a cardboard box or secure container. Wrap glass bottles in cloth or newspaper so they do not break while transported.

checked

Place the cardboard box in the trunk of your car or in the bed of your pickup truck. Keep items away from passengers.

checked

Follow directions once you reach the collection site. At the site, staff will unload the chemicals from your vehicle. You will be asked to stay inside your vehicle.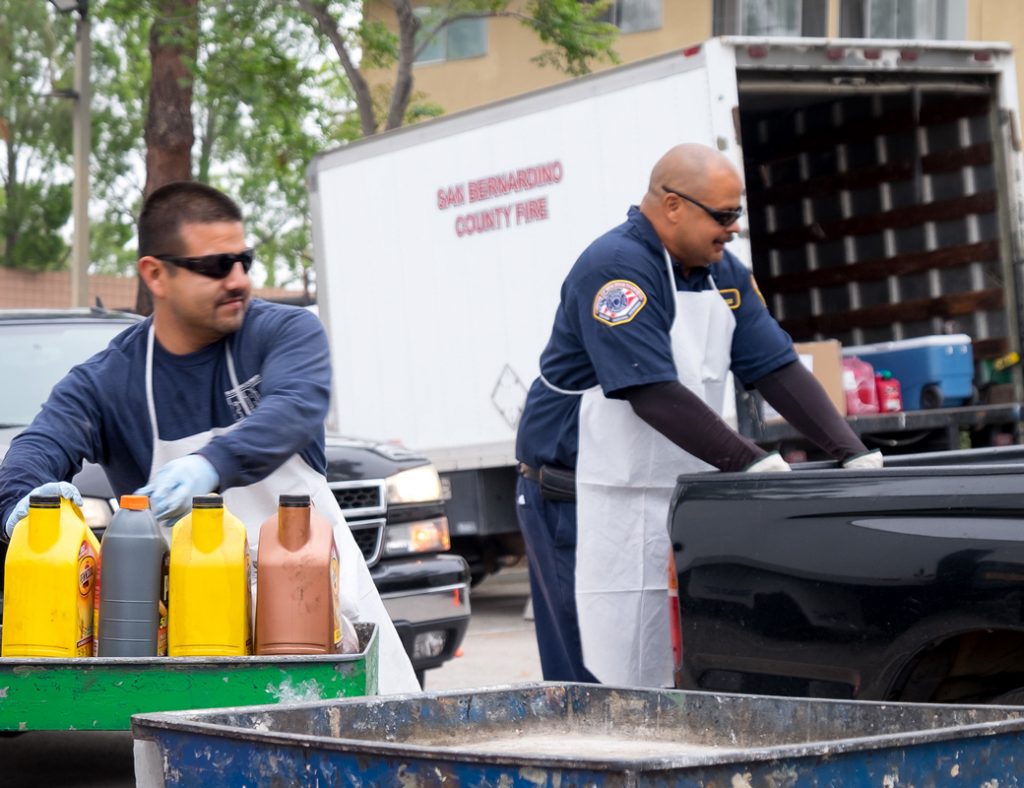 For non – San Bernardino County Residents, visit Earth 911, or call your local solid waste authority for information.
Dispose of Controlled Substances / Medication/Sharps
checked

Medication

crossed

Vaping
checked

Medication

checked

Vaping
Next National Drug Take Back Day is April, 2024 (date pending)
Additional Controlled Substance Resources
Accepted Household Hazardous Waste Items Media Gallery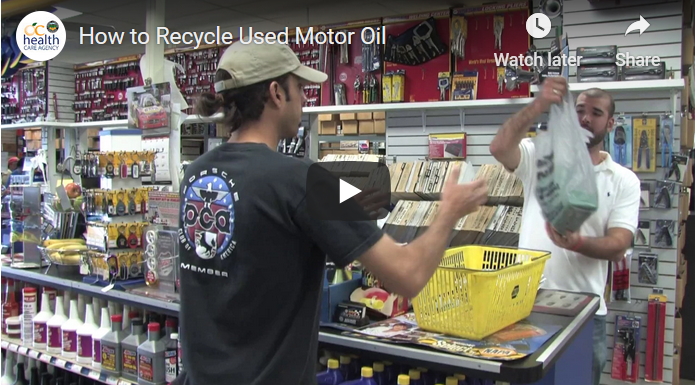 How to Recycle Used Motor Oil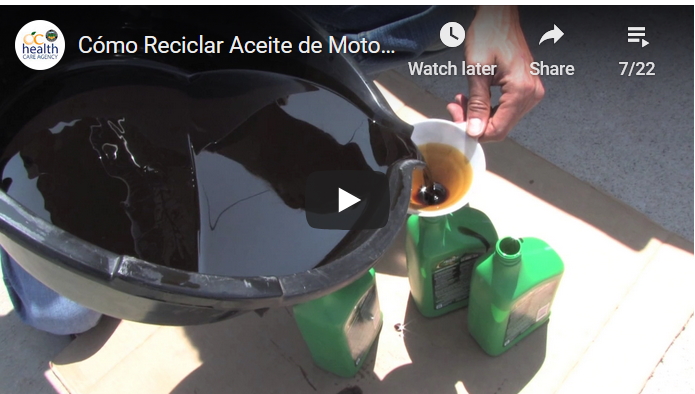 Cómo Reciclar Aceite de Motor Usado